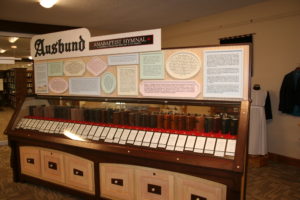 Ausbund Collection of local historian Leroy Beachy
The library is a research center for Ohio Amish and Mennonite history and genealogy. Located in Holmes County, Ohio's largest Amish community, the library's primary focus is on its Amish community. It holds a collection of local genealogy, history, and Anabaptist books. Included are collections of letters, documents, periodicals, maps, and Amish Directories.
The collection of rare Amish and Mennonite Bibles, Martyrs' Mirrors, Ausbunds, hymnals, and other related material is housed in a climate controlled vault. The library offers the public a glimpse of its signature rare books in the vault through a unique museum quality glass window wall. The collection of Ausbunds and Martyrs' Mirrors of the noted local historian and author, Leroy Beachy, are displayed for public viewing.
The library has digitized the Amish newspaper, The Sugarcreek Budget (1890-present), several old journals, periodicals, letters, Almanacs, and documents. These may be viewed and searched on our computers. Our two experienced staff historians can assist you with your search. The library has access to Anscestry.com, newspapers.com, saga-omii.org, and many other Amish/Mennonite websites to assist you. For those with computers, the library is Wi-Fi friendly.