Peter D. Schrock Collection – The letters are from a collection of letters sent to Amishman Peter D. Schrock (1829-1902). The collection consists of about 152 letters written in German and about 170 written in English. The library collection consists of about 167 of those letters mostly in German. Peter was the son of David Schrock (1786-1865) and grandson of Casper Schrock.
Peter D. Schrock Letters Article (Heritage Review)
Installment 1
Installment 2
Installment 3
Installment 4
Dr. Abraham Mast Collection – Dr. Mast (1820-1898) was a highly respected Amish/Mennonite doctor/pastor who practiced in the Holmes County, Ohio area. The collection includes a hand-written book of medicinal recipes, which, according to Dr. Mast dates CA 1650. Also in the digital collection, his patient ledger from 1881 – 1890s, and his church, baptism, and marriage record book while serving as pastor at Wanut Creek Mennonite church.
Yost Miller Collection – Amishman Yost Miller (1776-1846), sometimes known as "Lawyer Yost Miller" was well known in the Somerset County, Pa. and Holmes County, Ohio for assisting Amish in their legal paperwork with wills, settling estates and etc. The collection consists of three legal sized archival boxes of his papers, his law book, hand-drawn plat map of Walnut Creek Township, Holmes County, Ohio, his 1833 Menno Simons book, and misc. The collection also contains some of his son Benjamin Miller's papers. Yost Miller Article (Heritage Review)
William (Wilhelm) J. Yoder Collection – Indiana Amish Bishop William J. Yoder (1858-1936) attended both the 1917 and 1922 Holmes-Wayne County Amish Ministers Meetings. While the collection of approximately 150 letters contains many personal things, numerous letters make reference to the 1917-1922 issues related to Sam Yoder and the Swartzentruber Church division. William J. Yoder Article (Heritage Review)
David J. Stutzman Collection – Amishman David J. Stutzman (1880-1966) collection consists of 4 file folders of personal papers, 15 books, and 5 CDs. The most notable book is a 1700 Holland Dutch hymnal, Veelderhands Schriftuirlijcke Liedekens/Gemaeht uyt het Oude ende Nieuwe Testament, used by the Groningen Old Flemish Mennonites. Other notable books include a 1767 Christoph Sauer Ausbund which once belonged to John Yoder (YR125), a 1733Verborgene Leben Mit Christo in Gott, and an 1841 Christenpflicht, once belonged to Christian K. Hartzler.
Ezra J. Kanagy Collection – Am Amish minister, author, and writer, Ezra (1922-1999) lived in Mifflin County, Pennsylvania for 64 years. Becoming involved in the New Order Amish movement, he moved to Holmes County, Ohio in his later years. The collection consists almost entirely of correspondence, both personal and relating to church issues.
Moses M. Beachy Collection – Amishman Moses Beachy (1874-1946) was ordained an Amish Minister in 1912 and Bishop in 1916. Moses of Somerset County, Pennsylvania was a founder of the "Beachy Amish Mennonite" church when he tolerated the introduction of automobiles in 1928. Moses M. Beachy Letter Index
Ervin Schlabach Collection – The thirty file folders contain photocopies of books, articles, and dissertations relating to a broad range of early Anabaptist writings and sources. Most of the materials relate to church discipline and order, and were collected as source material for Ervin's PHD dissertation, The Rule of Christ.
Jacob M. Miller/Monroe N. Schlabach Collection – Amishman Jacob M. Miller (1893-1964) Monroe N. Schlabach (1891-1966) were WWI conscientious objectors to war. Holmes County, Ohio natives, Monroe was at Camp Jackson, South Carolina and Jacob at Camp Sherman, Ohio. The 1918 letters consist of about 70 letters written by Monroe and about 140 received by Monroe. Some of the other items in the collection include farm business ledgers of Moses E. Miller 1916-1932, Sugarcreek area Amish baptism records 1913-1951, How the New Order Amish Church Started, by Joe J. Miller, My Life Story, by Eli J. Borntrager, Sugarcreek area photos of Christian J. Miller farm, Middaugh family, and etc.
Berlin Township School Records, Berlin, Ohio – 1888-1917, consists of school reports and records of the 9 school districts; Berlin, Sharp's, North Bunker Hill, Buena Vista, South Bunker Hill, Doughty, Boyd's, and Michael Miller. Also includes poll and tally sheets of school elections, miscellaneous letters, certificates, and records.
Sarah Weaver Papers – Sarah (1921-1991) was a well known invalid Amish artist. The files consist of her original poems, sketches, cards, and notebooks
Pomerene Family Ledgers – The Pomerene family were prominent Berlin, Ohio, Holmes County, Ohio residents. The family includes a doctor and a United States senator. The collections consists of a certificate of relief ledger of Holmes County, 1890s, an accounts receivbles ledger 1879-1890s, an accounts receivables ledger of Dr. Harry and Lister Pomerene 1892-1898, 3 – patient ledgers from 1879 – 1890, 2 – Pomerene family history files, several photos and misc.
Oscar Miller Collection Vol. 1 – consists of tally sheets, treasurer reports, minutes, ledger sheets, bonds, and many other records of Berlin Township, Holmes County, Ohio from 1880s – 1920s.
Oscar Miller Collection Vol. 2 – personal files of Oscar with genealogy files of the Yoders, Hostetlers, Christners, Millers, and Troyers. Other files on the Berlin Pioneer Days, Mennonite History, Church History, Col. Crawford's March, W.E. Farver clippings, Berlin postcards, Amish postcrds, few local photos, and local advertising. One file of Berlin School system, Troyer Ridge school pupil records from 1916 – 1927.
Ledgers & Misc. Collections – 1931 travel journal of Carl Jaberg thru the Western United States, handwritten ledger of minutes, contracts, and etc. of Holmes County, Ohio mainly Killbuck schools 1850s-1870s, business ledger of Elias Beachy (BC136) 1814-1904, mid 1800s, ledger of shoemaker John Caldren 1836-1867, Berlin Township, Ohio, South Bunker Hill School records 1857-1868, Berlin High School History 1898-1958. Jermiah Miller ledger at Doughty Roller Mill, Charm, Ohio 1901-1905, Dan L. Mast ledger Charm, Ohio 1917-1920, David Hershberger HB446 business ledger/day book 1845-1865, Walnut Creek, Ohio, Death records ledger from 1841-1908 by Joni J. Yoder, German ledger of Henry Hochstetler, HS18, (1773-1846) with the names of his 19 children and many other early Somerset Couty, Pa. and Holmes County, Ohio Amish names. Brown ledger of Berlin coal sales from 1945-1961, W.E.Farver Writings Vol.1-2,
Other Ledgers- Holmes County Amish Marriage Ledgers with attendants names 1890-1910, Shanesville, Ohio Council Minutes 1902-1930, Salt Creek Township, Holmes County, Ohio Justice of the Peace Ledgers 1858-1943, Walnut Creek Township, Holmes County, Ohio Trustee Minutes 1861-1874.
John M. Witmer Letters – John, (1897-1918) a Mennonite from Columbiana County, Ohio was a WWI conscientious Objector to war who died at Camp Sherman, Chillicothe, Ohio in 1918. The collection consists of about 50 letters, an address book, and some draft related items. Booklet, John Witmer A World War I Conscientious Objector, by James Witmer. John Witmer Booklet
C.P.S. (Civilian Public Service) Collection – The Turnpike Echo 1942-1944, Mennonite Central Committee newsletters 1943, C.P.S. Bulletin 1944-1947, Sidling Hill Camp Photo, and other photo possibly Va.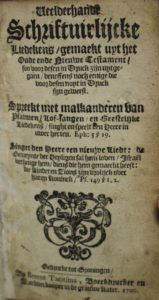 Title Page of rare Veelderhands Schriftuirlijcke Liedekens/Gemaeht uyt het Oude ende Nieuwe Testament, 1700. In David J. Stutzman Collection.